Pro Sim Racing in Cornwall
Welcome to South West Sim Racing, your go to for the perfect sim driving experience in Cornwall.If you are looking for a corporate team building event or a birthday gift we've got you covered.We can bring the Simulator to you!Drop us a line to enquire about your day with us!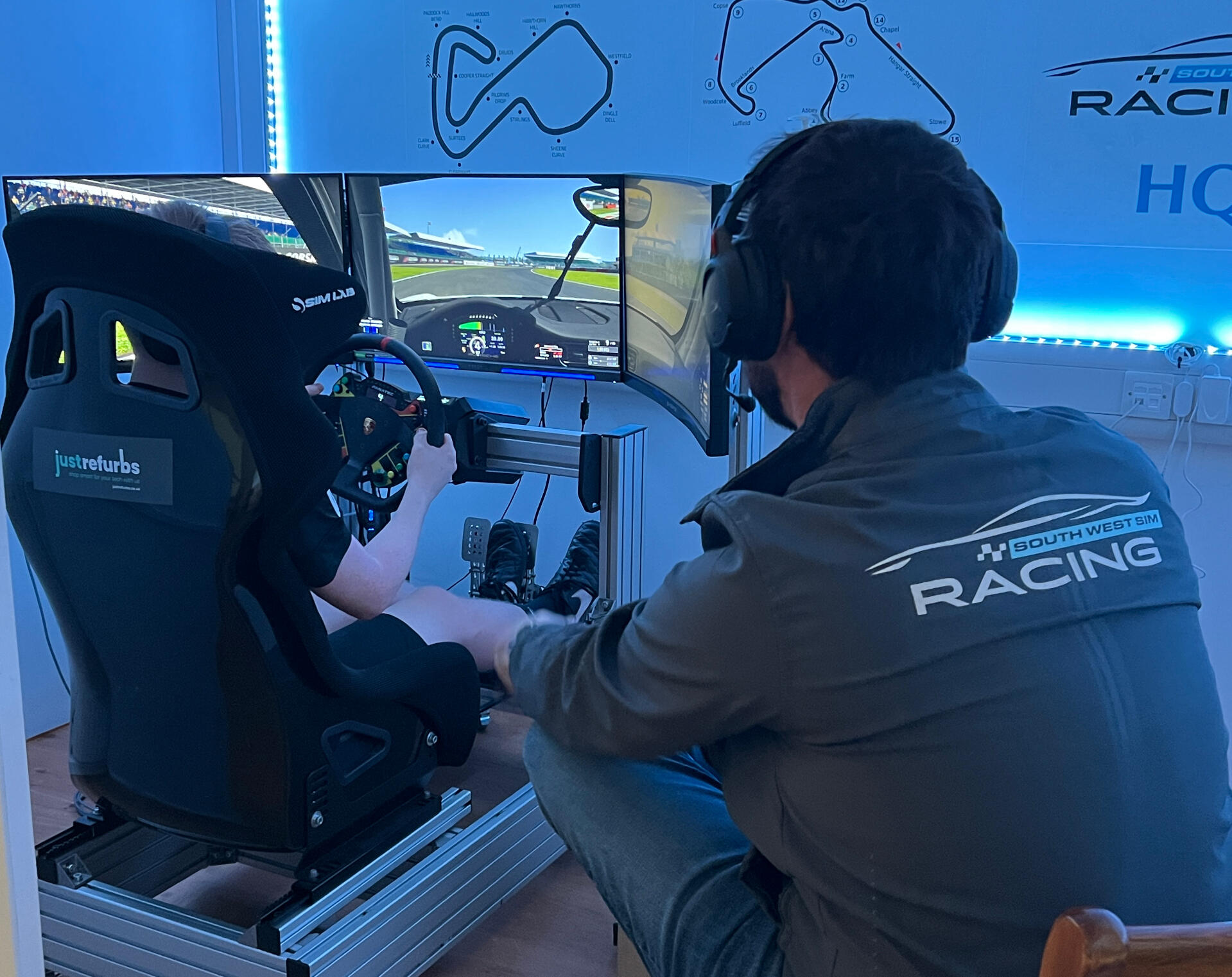 "At last! A professional set up in the South West, no more travelling for miles to race and train."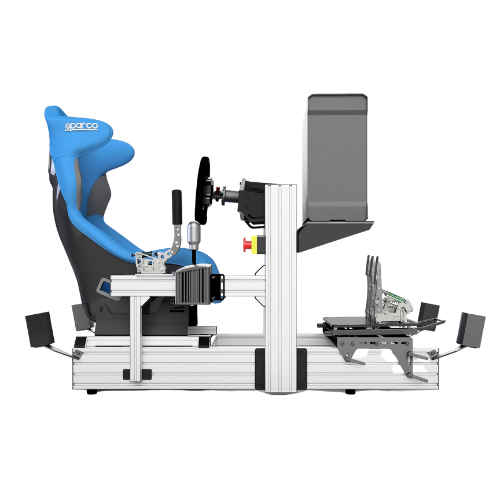 THE SIMULATOR
State Of The Art Equipment
Our simulator boasts state of the art performance hardware and software, the likes you will see the professionals training and racing on around the World.
TRAIN WITH THE BEST
Professional Coaching
Rob Barff has over 30 years of experience and 50+ Podium Finishes and he'll be at your side coaching you while you race.Conrad Petterson has a wealth of experience when it comes to looking after professional athletes and has specialised in driver performance and fitness coaching for many years.
Rob holds the highest grade of coaching licence available, works for numerous leading sportscar manufacturers & has a portfolio of successful drivers under his tutelage. Ex-Chief Instructor of the worldwide gamer-to-racer TV Show "GT Academy".Rob is equally proficient operating in either real world or virtual world scenarios.
- 30+ Years Racing
- 25+ Years Coaching
- 500+ Races
- 9 x Dubai 24hrs
- 2 x Le Mans 24hrs
- 6 x Spa 24hrs
- Daytona 24hrsMultiple Race Wins and 50+ Podium Finishes
- British GT
- UAE GT
- GT Trophy
- Le Mans Series
- Grand-Am
- ALMS
After serving in the RAF for 10 years as a Physical Training Instructor, Conrad went on to complete a Sports Therapy course based at one of the Oxford Colleges, he graduated as a Fitness Consultant and Remedial Therapist, with the aim of enabling sports enthusiasts of all levels to achieve their goals.In late 2006 Conrad started working with a local Cornish Racing Driver after a near career ending accident, to build up his strength and endurance through the use of specific exercises and therapy work on his back and neck, going onto work with a ELMS team (LMP2 car prototype). This lead onto working at the great Le Mans 24hr race (the pinnacle of the endurance racing) 3 times looking after 3 drivers for the duration of the race catering to dietary and hydration requirements, also neck and lower back issues that occur during driving for such long periods of time, as well as working at Monza, Bahrain, and a number of the circuits around the UK.Conrad in his career has worked with a number of racing teams from Formula Ford to Le Mans series drivers and pretty much every series in between.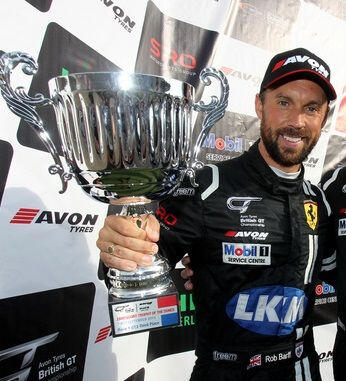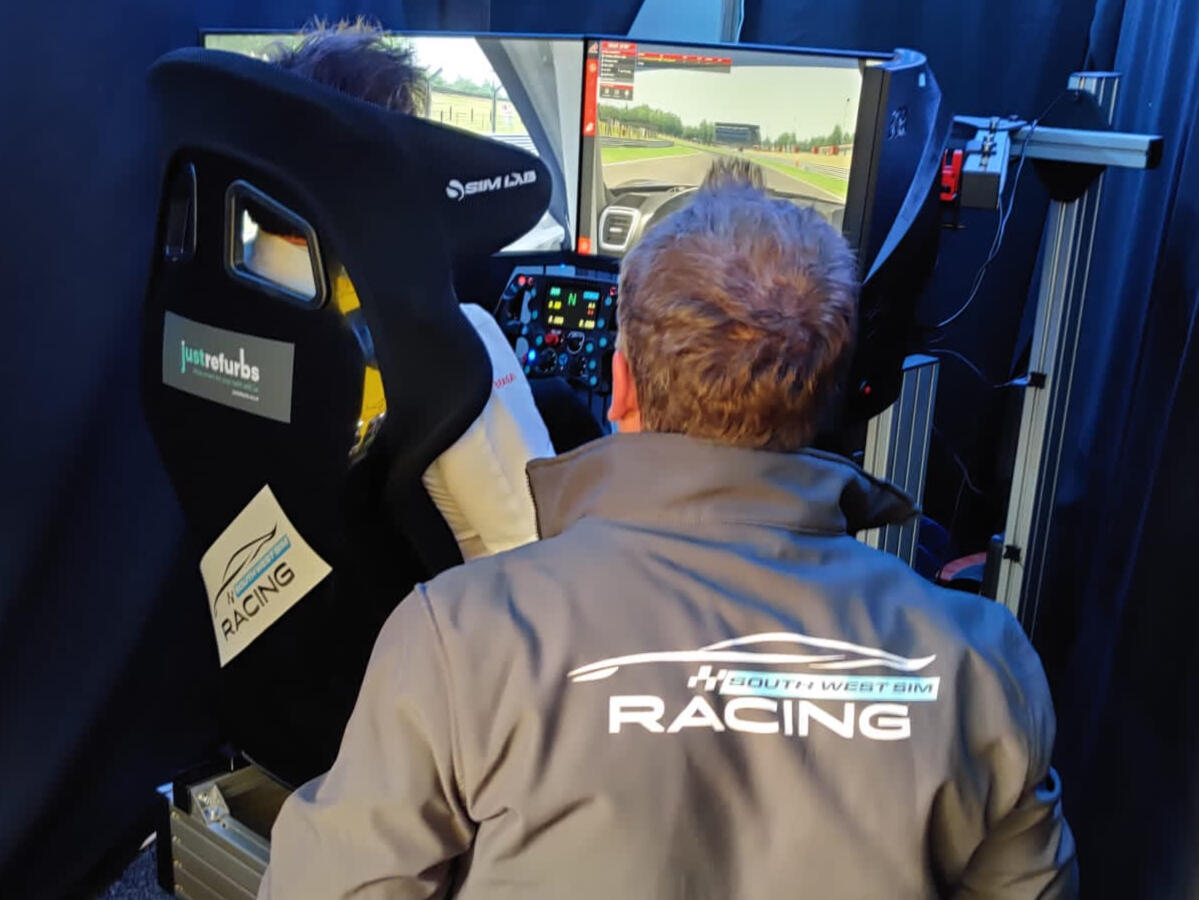 A GREAT EXPERIENCE
How It Works
We have everything covered to ensure you have the best experience with us at South West Sim Racing.
Below you will find the booking pages. It's simple and all done through PayPal.If you don't have PayPal no worries you can still use a card to pay within the PayPal platform.
There will be hot and cold drinks available. If you are booked in on one of our experience days we will offer you a bacon roll or lunchtime sandwich, the details of which would have been pre arranged.
Once you are all set there is only one mission. Set the fastest laps you can and see if you can make one of our leader boards.
Enjoy a complimentary beer if you have been on one of our experience days and chat with our pro for tips on how to become faster on track.
SIMPLE PRICING
Book Your Sim Racing Today
Below you will find all the options for booking your session with us.
You can also buy gift cards which will be sent to you via email.
TASTER SESSION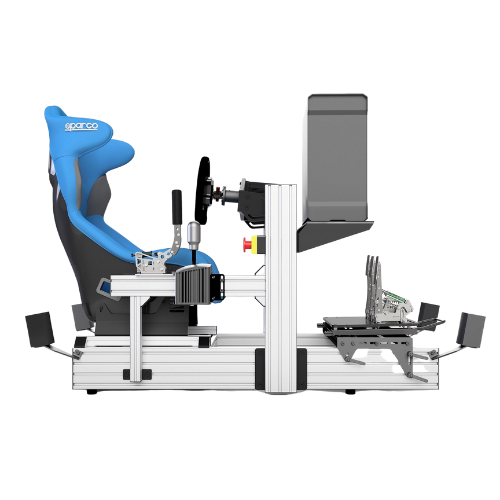 £175
Per Session
1 Hour Session

Expert Tuition

Single Multi-Lap Race
---
CORPORATE TEAM DAY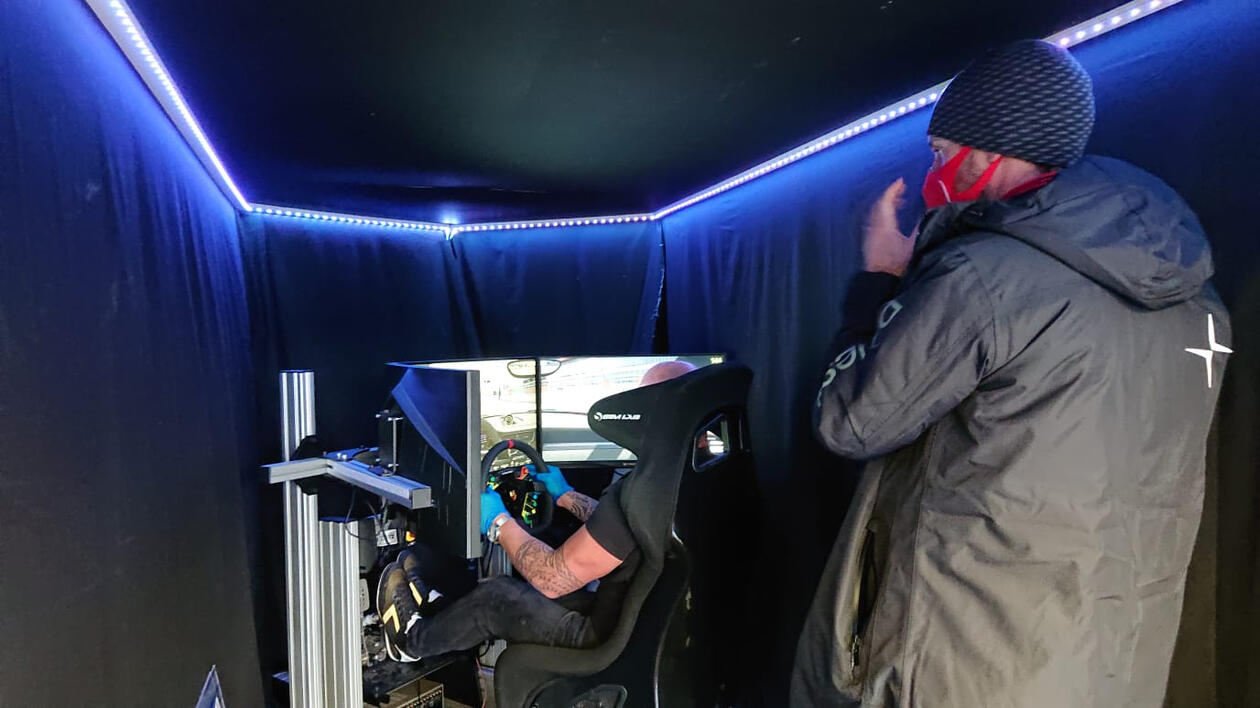 £895/1295
Half Day / Full Day
Who Is Your Office Stig?

Ideal Team Building Event

Pro Driver Tuition

Food & Drinks

Post-Race Debrief

Group Leaderboard Ranking
THE ULTIMATE GIFT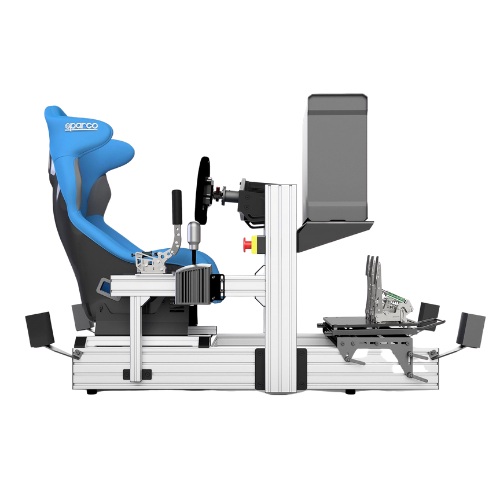 £375
Per Session
2 Hour Session

Multiple Circuits/Cars

Pro Driver Tuition

Food & Drinks

Post-Race Debrief
---
KNOW WHAT YOU'RE DOING?
Book By The Hour
For regular and experienced drivers we offer a flat £75/h pay-as-you-drive rate so you can finish work and head to the track.
KNOW WHAT YOU'RE DOING?
Personal Coaching
Looking for the ultimate coaching experience? Rob will take you through the paces to improve your fastest lap.
KNOW WHAT YOU'RE DOING?
Gift Cards
Treat someone you know who'll love this experience with a gift voucher. Available for all packages from £50 – £375.
"These guys really have the corporate day sorted. A perfect team-building exercise for the whole office."
LOVE SIM RACING?
Become A Member
What to race on a regular basis? Members get discounted hourly rates and receive a number of coaching lap reviews free per year.Your cars set up, data and timings will also be saved and loaded every time you race.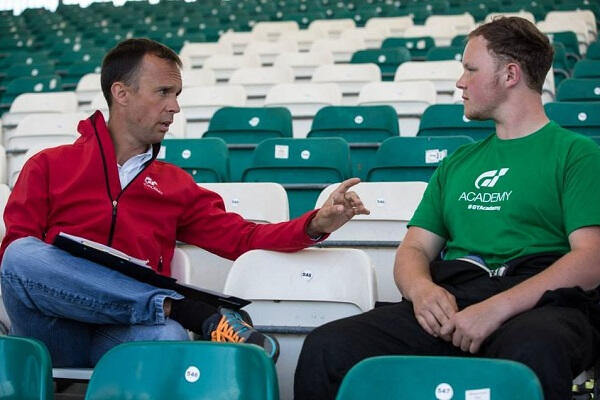 ---
FAQ's
Got a question?
Our simulator boasts state of the art performance hardware and software, the likes you will see the professionals training and racing on around the World.
> What is Sim Racing?
Sim racing is the closest experience to motorsport racing you can get with comparatively low costs and very low risk. Race any track and any car from the comfort and safety of a virtual environment. If you crash just reset and try again.
> Will sim racing make me faster on the track?
Using a simulator will probably help with your overall speed, however taking advantage of our in house performance coaches certainly will improve your lap times on the track.
> Can I bring someone with me?
You are welcome to bring a friend or family member with you. If you have a race team/engineer we can provide a space for them enabling a comprehensive analysis of your session.
> Can I use the simulator if I am not a pro driver?
Absolutely. You never know you may find a talent that needs taking to the next level.
> What do I need to bring with me on the day?
If you have race gloves and shoes these are a must for those of you who expect to be putting in the fastest laps. If you don't and would like to purchase gloves we will have them for you to buy on the day. Trainers are adequate if you are only out for a fun day of racing.
> What are your booking terms and conditions?
Once a session has been booked and paid for our cancellation policy is as follows:
- Cancellation up to one week before the session 75% of the payment will be refunded.
- Cancellation up to two days before the session 50% of the payment will be refunded.
- If you have to cancel the day before your session 100% of your session cost will be charged.
- Some people who suffer from motion sickness may find the simulator causes this to occur.
- We recommend taking a travel sickness tablet two hours before your session if this is the case.
- Refunds cannot be given in circumstances of travel sickness symptoms on the day.
> How does it compare to the real thing?
Sim racing is the next best thing to actually driving a race car in real life. You'll need all the physical and mental techniques professionals use during a race, such as trail-braking, heel-and-toe pedal work to finding the racing line of a circuit. The sim uses state of the art hardware creating a true feel of a real race car. From the bucket seat through to the force feedback steering wheel and hydraulic pedals you will feel as close to the real thing as you can get.Triple wrap around screens surround you as you race, and with the addition of a VR headset, you will feel more immersed than ever before.
---